A Few Great Savannah Restaurants
Eating well in Savannah isn't a problem. There are any number of excellent restaurants to discover, from classic barbecue joints to more modern cuisine. Upon returning after five years, we compiled a list of some of our favorites. If you're looking for good eats, you might want to give one of these restaurants a try.
Crystal Beer Parlor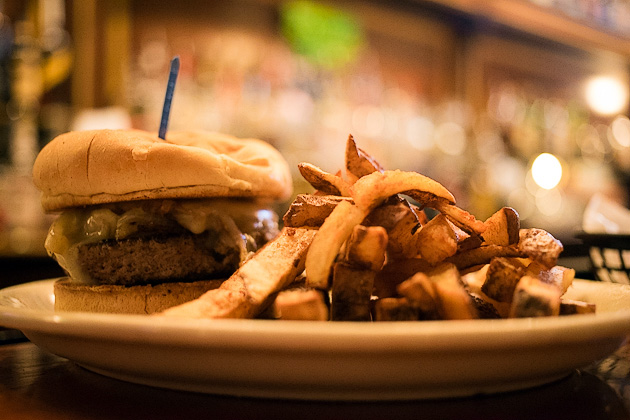 One of Savannah's most historic restaurants, the Crystal Beer Parlor on West Jones Street opened in the early 1900s as a grocery store. It soon morphed into a restaurant and was one of the first in the country to serve alcohol after the repeal of Prohibition. That alone was enough to win it a place in the heart of Savannah, and the Crystal hasn't become any less popular over the course of the decades.
We've been a number of times, and always enjoy ourselves immensely. The food is excellent… although I've never ordered anything other than burgers. And the sheer number of craft brews on-tap is a glorious sight to behold. Whether you eat at a booth or the bar, and even if there's a line waiting for tables (there probably will be), we can almost guarantee you'll have a great time at the Crystal. [Crystal Beer Parlor – Website]
The Grey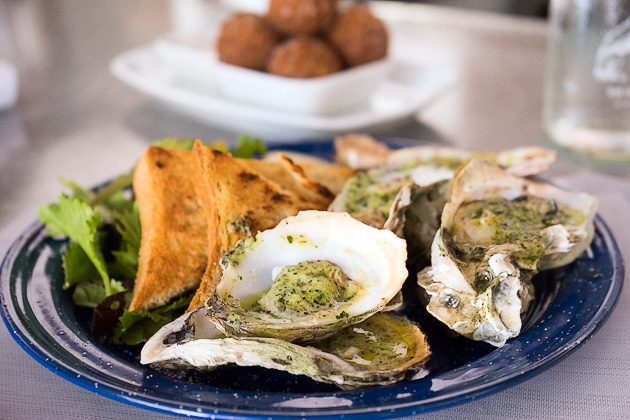 Set inside Savannah's former Greyhound station, on MLK Boulevard, the Grey uses its location to excellent effect. The old ticket stands are now the restaurant's bar, and the waiting room has become the main dining hall. But as impressive as the remodeling is, the Grey's food is even better. I ordered up the daily special: locally-sourced oysters served on the half-shell and bathed in a delicious herb sauce. It's not known as the cheapest spot to eat in Savannah, but the price of the lunch menu was reasonable, and the food was worth every penny. [The Grey – Website]
Sandfly BBQ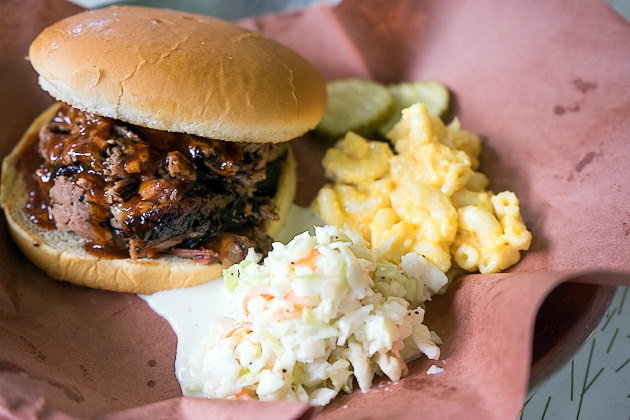 Housed in a classic old Streamliner diner on Barnard Street, Sandfly BBQ has been serving up Memphis-style barbecue to hungry Savannahians for a few years, now. It's a small joint, so you might have to wait for a booth, but don't let that stop you. This is wonderfully-flavored BBQ, rich and smoky, and it tastes great whether you order a platter, a sandwich or a salad. That's right: salad. I ordered the Pulled Pork Sandfly Salad… and I think there might have actually been some lettuce leafs underneath all that meat. Just enough to make me feel "healthy." [Sandfly BBQ – Website]
Treylor Park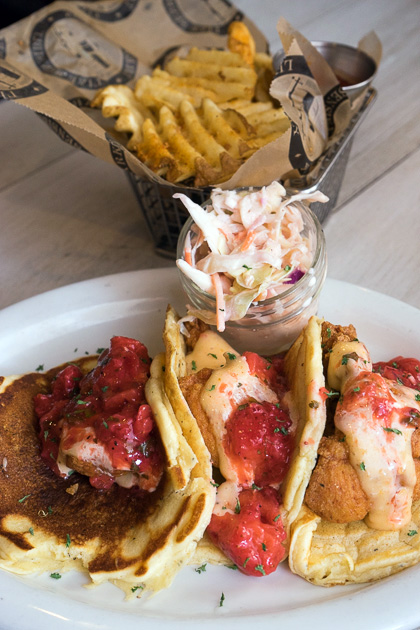 It doesn't often happen that you can dislike your meal at a restaurant, and still wholeheartedly recommend the place. But that is exactly what happened to me at Treylor Park, a restaurant found downtown on Bay Street. It wasn't their fault that I didn't like my meal: they had accurately titled their "Fried Chicken Pancake Tacos With Strawberry Salsa," and it was well-made. I'm not sure why I ordered them, but it turns out that fried chicken pancake tacos smothered in strawberry sauce taste exactly how you would expect.
But I love the audacity of even having such a thing on your menu. And everything else we had at Treylor Park was delicious. Not only that, but there was a great buzz at this bar/restaurant; the place was packed when we entered, and we grabbed the last stools available. There's a reason Treylor Park has become so well-loved. But it might not be the fried chicken pancake tacos… [Treylor Park – Website]
Screamin' Mimi's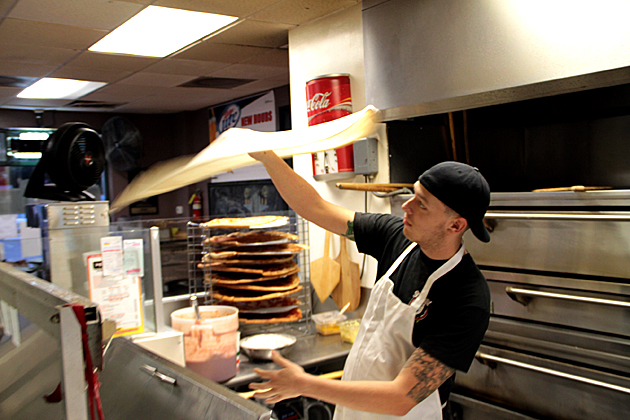 Screamin' Mimi's has long been serving Jersey-style pizzas to the people of Savannah, but it also serves up a cool, slightly-hipsterish atmosphere in its small, family-run restaurant on Oglethorpe Avenue. Mimi and Big Lou are the proprietors, and although I've never heard Mimi scream, I'm pretty sure that I did after seeing the size of the supreme pizza we ordered. If a giant, delicious pizza, dripping with cheese and toppings sounds good to you, head on down. [Screamin' Mimi's – Website]
The Green Truck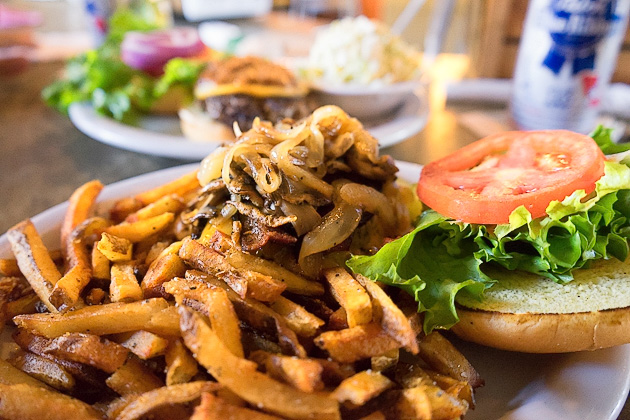 If you're in the mood for a great burger, go south on Habersham and don't stop until you see a restaurant with a pale green truck sitting out front. Despite its location outside of the city center, this is one of the most popular lunch spots in Savannah. The restaurant looks a little shabby from the outside, but don't let that prevent you from going in; the service is friendly, the menu is fun and unpretentious, and the burgers are incredible. [The Green Truck – Website]
The Collins Quarter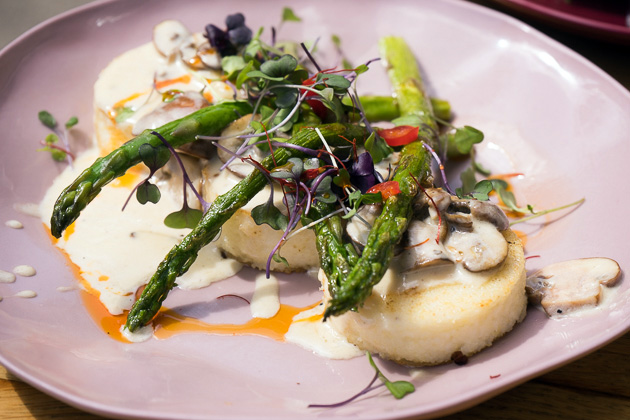 This stylish restaurant does justice to one of the best locations in the city, at the intersection of Bull and Oglethorpe. It was founded by an Australian and its interior is based on the popular Collins Street of Melbourne. But we sat outside on the sidewalk, to better enjoy another of Savannah's unseasonably warm February afternoons.
During our visit, the place was packed and it took a long time for our food to arrive. We hadn't complained, but the waiter brought us a couple beers on the house, by way of apology; this is a courtesy most popular restaurants wouldn't extend, and we really appreciated it. The Collins Quarter has a lot of things going for it: excellent food, friendly service, a great location and reasonable prices. [The Collins Quarter – Website]
Huc-a-Poos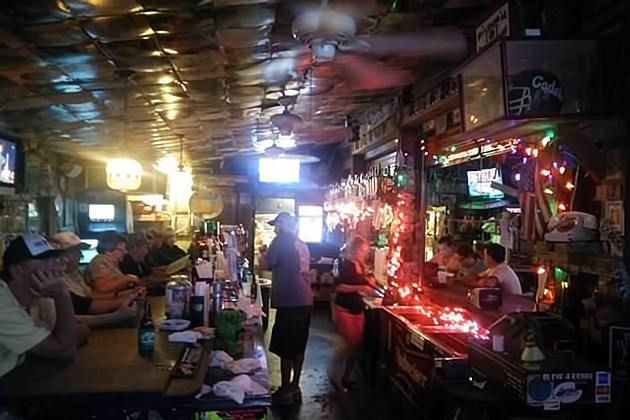 Screamin' Mimi's is great, but our favorite Savannah pizza joint isn't actually in Savannah, but Tybee Island. Huc-a-Poos is a Tybee institution, beloved among locals for its giant pizzas, rock-bottom prices, and rowdy atmosphere. The deal on pizzas simply can't be beat: you can order as many toppings as you want, and the price doesn't change. Throw in an outdoor eating patio, hilarious bartenders, and drunken locals trying to pick up any newcomers who wander in (it's happened to us), and you have the recipe for an entertaining night out. [Huc-a-Poos – Website]
More Pics from the Crystal Beer Parlor
More Pics from The Grey
More Pics from Sandfly BBQ
More Pics from Treylor Park
More Pics from Screamin' Mimi's
More Pics from The Green Truck
Another Pic from the Collins Quarter