Paula Deen's The Lady and Sons
While we were living in Spain, eating incredible, organic dishes fresh off the fields, the Paula Deen Phenomenon was sweeping America. And by the time we moved to Savannah, she had become a bona fide celebrity… especially in this city. No matter where you turn, there she is, her smiling visage peering out of every storefront window, dominating the cover of every magazine, sneaking into every conversation. "You look skinny," she seems to be saying. "Come here and let Mrs. Deen rectify that."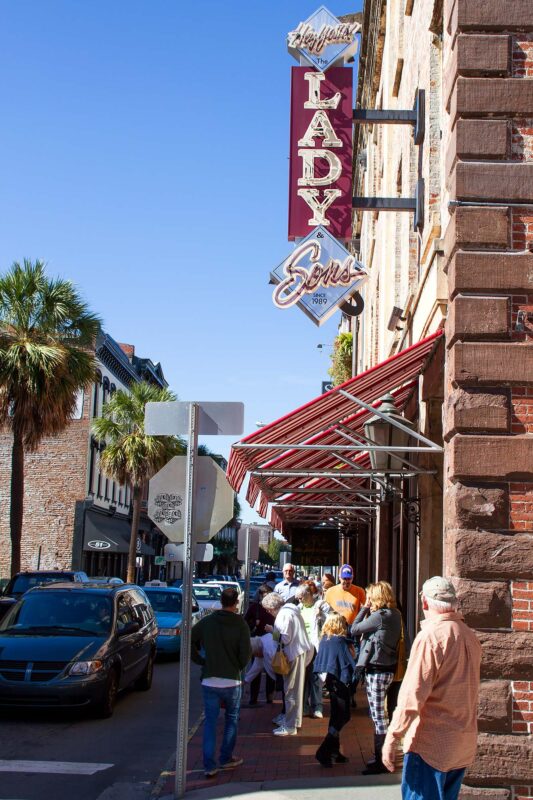 Everyone we've met here has had two pieces of advice for us. 1) At all costs, avoid eating at Paula Deen's restaurant, Our Lady and Sons. 2) And since eating there is unavoidable, stock up on cholesterol medication.
I didn't understand how eating at a restaurant could be "unavoidable", but that was before I talked to my friends and family. "You're moving to Savannah? Now, where have I heard of that city before? Oh, that's right: Paula Deen!"
My mom: "Of course I'll come to visit, sweetie. As long as you promise that we eat at The Lady and Sons".
My aunt: "So tell me all about Paula's restaurant, I'm on pins and needles! Excuse me, what? You haven't have eaten there yet? What's wrong with you, Michael?! Are you into drugs?"
And so, we went to The Lady and Sons. It was everything everyone said it would be, both good and bad. I've never eaten greasier food. Even my beer was greasy. Even my napkin. It freaked me out, but The Lady and Sons seemed to be a sort of deep-fried Mecca for most of our fellow diners. People were moaning with pleasure as they bit into their deep-fried whatever. We were transfixed by a woman at the neighboring table who, with every bite of her biscuit, was sent into a spasm of gratified rapture. So delicious! She was literally shaking with delight… or now that I'm reflecting on it, that might have been a heart attack.
If you're not a Paula Deen fan, I'd say you can comfortably skip The Lady and Sons, and not feel the slightest bit guilty; Savannah has plenty of other restaurants that are more worth your money. And if you are a fan of the flamboyant Ms. Deen… well, I shouldn't waste any more breath. You're going regardless of what I say, and you're going to love it. (But seriously, consider adding some cardiovascular exercise to your daily routine.)
The Lady & Sons – Website