The Inescapable Influence of The Book
Before we moved to Savannah, me, Jürgen and four-year-old Xiao Liang of Taiwan were the only three people on Earth who hadn't read Midnight in the Garden of Good and Evil, by John Berendt. And now, noble Xiao stands alone. Jürgen and I have buckled down and read "The Book."
And it was great! We had already become relatively familiar with the city, and the characters and locations leaped right off the page. Berendt has an amazing talent for description, and a knack for mixing his way into interesting situations and meeting bizarre, charismatic people. Midnight in the Garden of Good and Evil still holds the record for the length of time spent on the New York Times bestseller list, and there's a reason for it.
But, man, after living in Savannah, did we get tired of hearing about "The Book." I wonder if another city has ever capitalized so much on a single work of art. I doubt that even Bethlehem milks the Bible as outrageously as Savannah does Midnight. Copies of it can be found everywhere in the city, on every bookshelf, and on sale in every shop… even clothes stores! There are tours of The Book's locations, an entire store shop dedicated to it, and fans can even tour the Mercer House on Monterey Square, where Clint Eastwood's adaptation was filmed.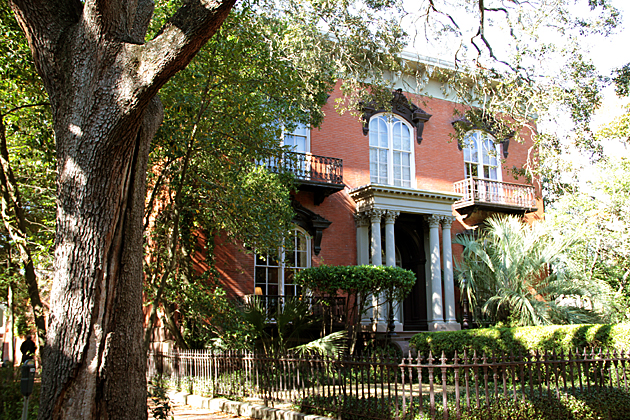 While I loved Midnight, I'm glad I didn't read until after we'd lived in Savannah for awhile, otherwise I might have been tempted to follow in Berendt's footsteps exactly. But sometimes we can't help ourselves. He documented this city in such a unique and engaging way, it's hard to resist repeating his experiences. For example, how could we not visit Club One to watch the fabulous Lady Chablis do her thing? And after reading Berendt's description of it, of course we were going to eat at Clary's! I suppose that, as far as guidebooks go, you could do a lot worse than Midnight in the Garden of Good and Evil.