Built in 1896 and recently restored to its original beauty, the King-Tisdell Cottage allows visitors to check out the interior of a classic Savannah home, and learn more about the rich heritage of the city's black population.
When we walked by the King-Tisdell Cottage, it had already been a long day, and we briefly considered saving this attraction for another time. But the cottage is small, and we figured that it would be a quick visit. We hadn't, however, reckoned on the force of nature awaiting us behind the doors. As soon as we stepped inside the cottage, I knew that our visit would be anything but quick.
There are people who are so enthusiastic, it's as though their bodies can't contain their spirits, and energy simply bubbles up and out of them. Our guide to the King-Tisdell Cottage is one such person. A true Savannah character, this woman provided a nonstop whirlwind of information, anecdotes and laughs from the moment we entered until we staggered out an hour later. The first thing she did was put her hands on her hips, look up and down at Jürgen's 6'6″ frame and say, "Well I'll be calling you 'Big Daddy Long Legs'! Now come on, Big Daddy, sit down and let me tell you about Mr. and Mrs. King"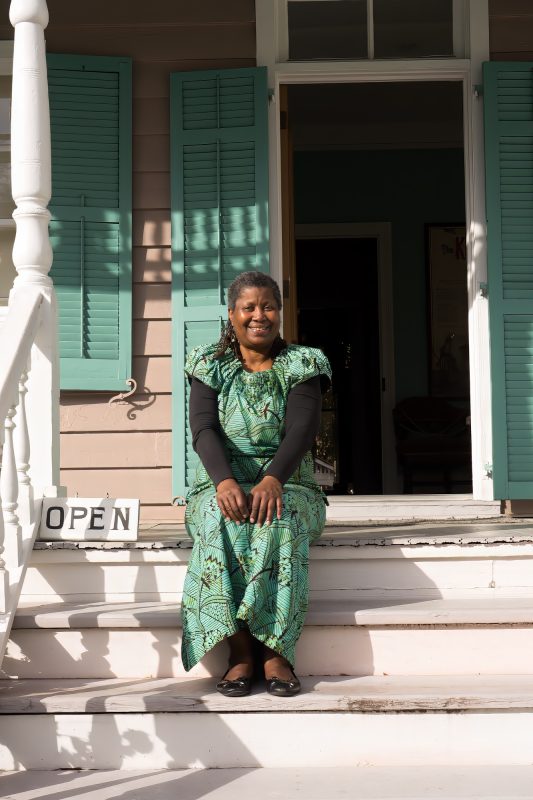 And so we sat down and allowed her to regale us about Mr. and Mrs. Eugene and Sarah King, who bought this cottage in 1925. She told us about Sarah's confectionery shop, and Mr. King's passing, and Sarah's remarriage to a longshoreman named Robert Tisdell. She told us about her own life, and local Savannah ice-pops known as "thrills," and the neighborhood kids, and the Underground Railroad, and how "you can't trust anything you learn about black folks from the TV, now listen to me!"
As we walked through the house with her, struggling to process the information overload, we also tried to concentrate on the Victorian-era house itself, which is lovely. There are exhibits dedicated to the lives of the cottage's owners, as well as W.W. Law, the influential Savannah civil rights leader who led the charge to preserve the house, moving it from its original location on Ott Street to Huntingdon.
Our guide seemed to detect the moment our energy had finally run out, and walked us to the door, offering us a couple moon pies for the road. Naturally, our farewells lasted for a long time, too; a neighbor stopped by and we all hung out at the cottage's fence, chatting about the upcoming St. Patrick's Day celebrations and the amazing weather. We were exhausted by the time we took our leave, but this had been an unexpectedly fun experience… just like many in Savannah tend to be.
More King-Tisdell Cottage Photos: