Found on on the eastern side of Telfair Square, the Telfair Academy of Arts and Sciences occupies a Regency style mansion built in 1818. It's been a public art museum since 1886, which makes it the oldest in the South.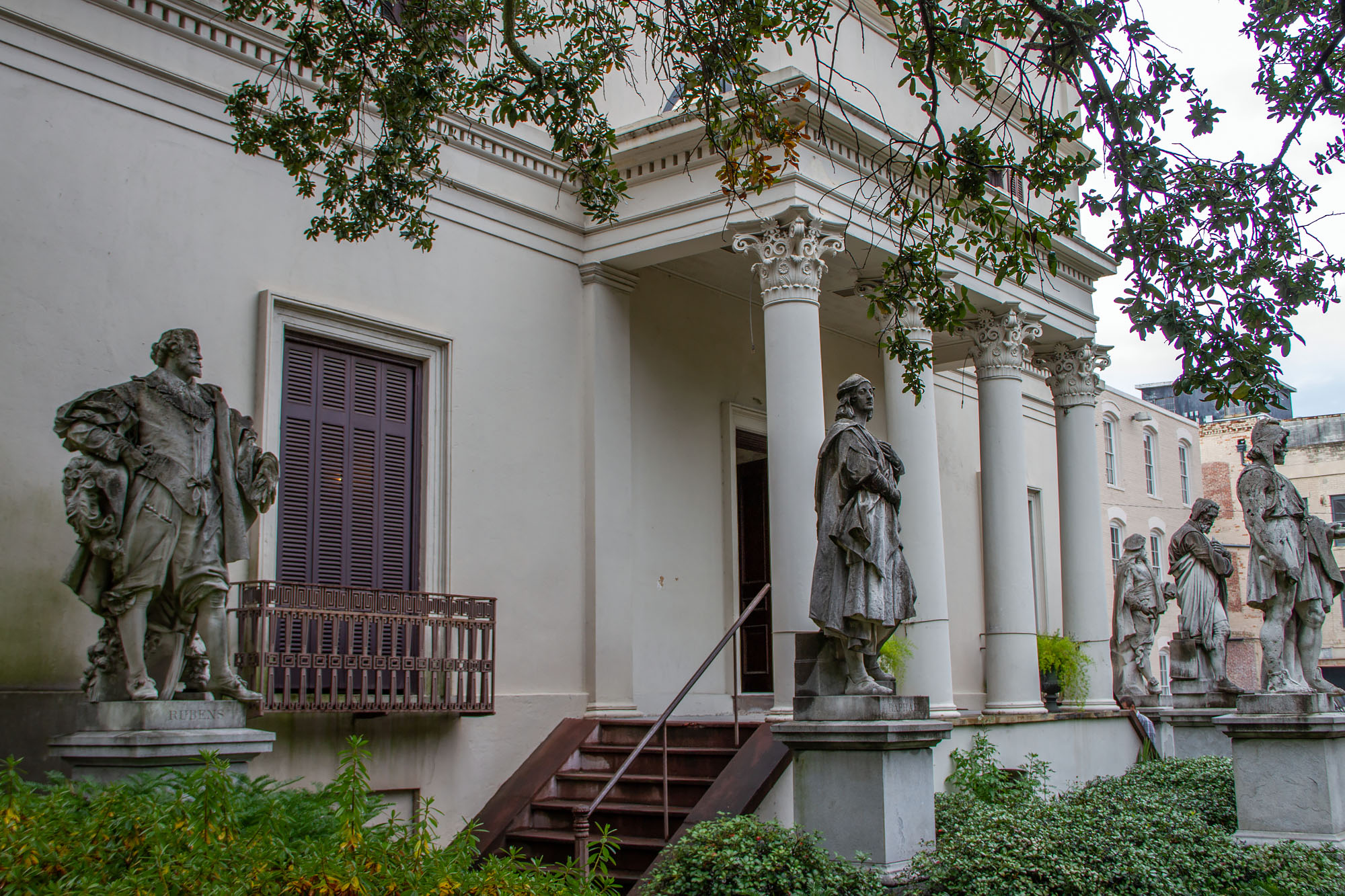 The museum blends its artwork seamlessly into its historic property, and the mansion itself is just as interesting as the paintings which adorn its walls. One of the most impressive rooms has no artwork at all: an octagonal study outfitted with 19th century furniture. We also liked the kitchen gallery, which featured some modern art alongside old cooking equipment.
But our favorite room was the main rotunda, with high ceilings, giant canvases and a plush bench in the center, where visitors can relax and study the artwork at leisure. I spent at least ten minutes taking in Julian Story's seventeen-foot long The Black Prince at Crecy.
We'd be remiss not to mention the Bird Girl statue, famous as the cover to Midnight in the Garden of Good and Evil. The Telfair Academy snatched it from Bonaventure Cemetery to "protect it," and have displayed it prominently in their museum (snugly behind their paywall). Removed from the cemetery, the statue has lost all of its haunting magic. And it's aggravating that this work of art was taken from a public place, and put somewhere that forbids photography … "Heavens, no photos in the museum! But please, feel free to buy a postcard."
Entrance to the Telfair Academy will set you back $20. That's a crazy price, though it also gets you into the Owens-Thomas House and the Jepson Center. Still, the fact that you can only buy the package deal is exploitative. Why not offer cheaper admissions to the individual spots? What if you're only interested in classic art? Or if you only want to see a historic home? Well, too bad! We severely disliked the Owens-Thomas House, and blew through the gleaming, sterile Jepson Center with its pretentious modern art in about five minutes. The Telfair Academy is definitely the highlight of the bunch, but at $20? I'm not sure it's worth it.
Telfair Museums – Website
More Telfair Academy Photos: